Butterflies
I am finding photographing and identifying butterflies to be rather challenging. But is is also a fascinating hobby and adds another element to my enjoyment of nature. My butterfly list at the end of 2020 stands at 39.  Let's hope I can add a few more in 2021!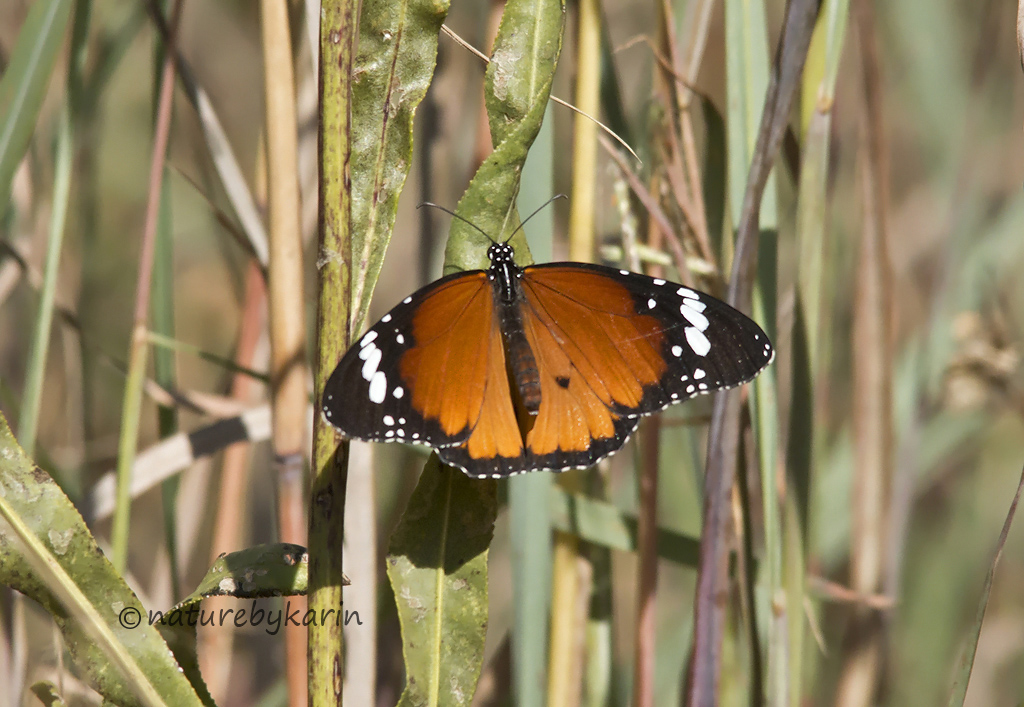 Black-haired Bush Brown (Bicyclus safitza safitza)
Garden Acraea (Acraea horta)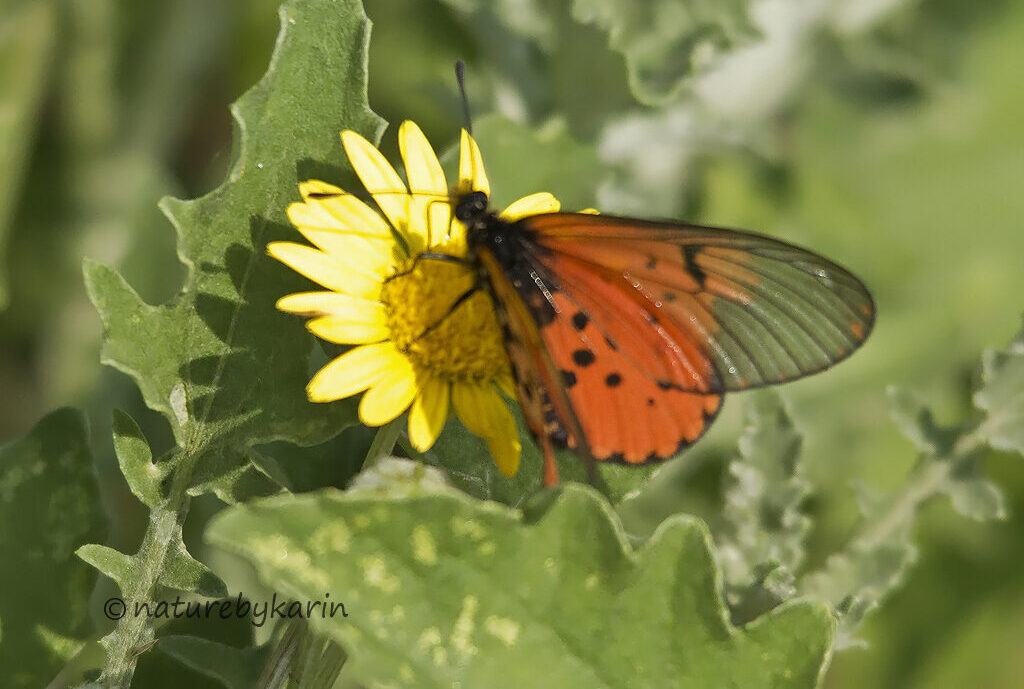 Window Acraea (Acraea oncaea)
Male
Marsh Telchinia (Telchinia rahira rahira)
African Leopard (Phalanta phalantha aethiopica)
Spotted Sailer (Neptis saclava marpessa)
Guineafowl (Hamanumida daedalus)
Spotted Joker (Byblia ilithya)
Common Diadem (Hypolimnas misippus)
Pirate (Catacroptera cloanthe cloanthe)
Darker Commodore (Precis antilope)
Garden Inspector (Precis archesia archesia)
Female
Male
Soldier Pansy (Junonia terea elgiva)
Brown Pansy (Junonia natalica natalica)
Yellow Pansy (Junonia hierta cebrene)
Dark Blue Pansy (Junonia oenone oenone)
African Blue Pansy (Junonia crithya madagascariensis)
Painted Lady (Vanessa cardui)
Eastern Scarlet (Axiocerces tjoane tjoane)
Female
Bush Scarlet (Axiocerces amanga amanga)
Male
Veined Russet (Aloeides pierus)
Steel-blue Cilate Blue (Anthene definita definita)
Black-striped Cilate Blue (Anthene amarah amarah)
Mocker Bronze (Cacyreus virilis)
Common Geranium Bronze (Cacgreus marshalli) 
Blue sp (Leptotes sp)
There are 3 Leptotes species that cannot be distinguished without studying them under a microscope. I have found a couple of these that will remain un-identified.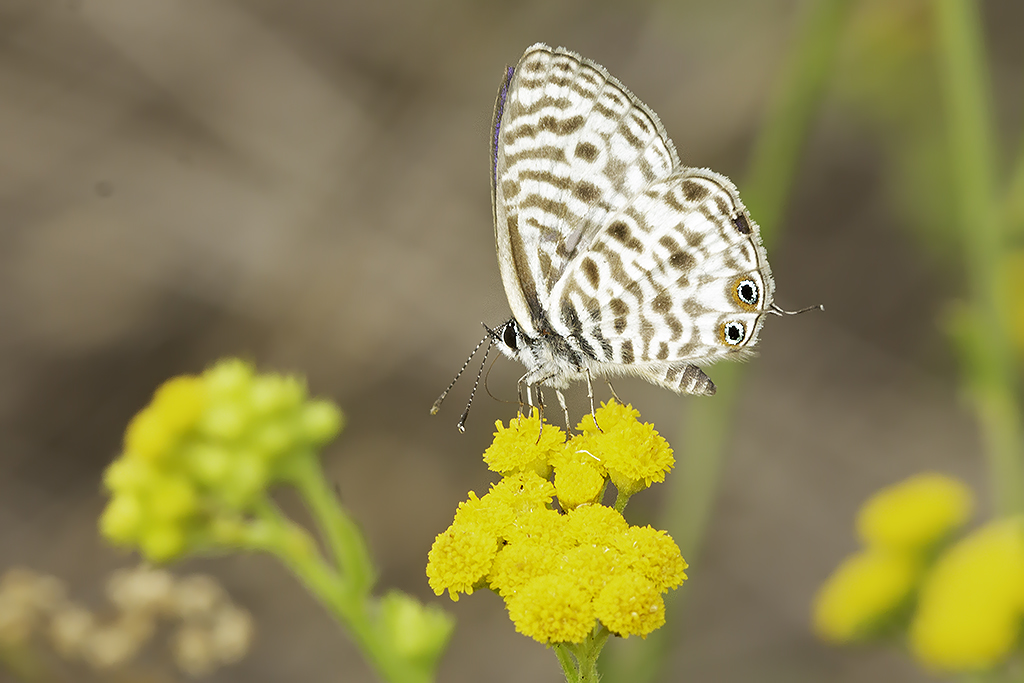 Pea Blue (Lampides boeticus)
Dotted Pierrot (Tarucus sybaris)
Patrician Giant Cupid (Lepidochrysops patricia)
Cupreous Ash Blue (Eichochrysops messapus)
Rayed Blue (Actizera lucida)
African Grass Blue (Zizeeria knysna)
Zebra White (Pinacopteryx eriphia eriphia)
Bushveld Purple Tip (Colotis ione)
Scarlet Tip (Colotis annae annae)
African Orange Tip (Colotis evinina evinina)
Bushveld Orange Tip (Colotis pallene)
Banded Gold Tip (Teracolus eris eris)
Male
Female
Lemon Traveller (Teracolus subfasciatus)
Pioneer Caper White (Belenois aurota)    
African Caper White (Belenois creona severina)
African Veined White (Belenois gidica abyssinica)
African Ant-heap White (Dixera charina charina)
Southern Meadow White (Pontia helice helice)
Twin Dotted Border (Mylothris rueppelli naemus)
Eastern Dotted Border (Mylothris agathina agathina)
African Migrant (Catopsilia florella)  
Lowveld Grass Yellow (Eurema hecabe solifera)
Broad-bordered Grass Yellow (Euramia brigitta brigitta)
Citrus Swallowtail (Papilio demodocus demodocus)
Mocker Swallowtail (Papilio dardanus cenea)
Narrow Green-banded Swallowtail (Papilio nireus lyaeus)
Large Striped Swordtail (Graphium antheus)
Striped Policeman (Coeliades forestan forestan)
Spialia sp.
Brown Dodger (Afrogenenus letterstedti)

Moths
Death's-head Hawkmoth (Acherontia atropos)
Acanthovalva inconspicuaria
Cyligramma Latana
Crimson Speckled Footman (Utetheisa pulchella)
Amata Alicia
Balsam Striped Hawk Moth (Hippotion balsaminae)
Eublemma anachoresis
Mocis proverai
Thysanoplusia orichalcea
Triangle Moth (Trigonodes hyppasia) 
Common Bagworm Moth Larvae Case (Eumeta cervina)
Variegated Pearl (Synclera traducalis)
Dotted Sable (Bocchoris inspersalis)